25th of June, the day when my wife and I tie the knot through the Chinese ceremony, is a special day for us. Unfortunately for last year, I had been very busy with the work until we don't have time to celebrate. I really feel very sorry towards her as we didn't celebrate any of our special days.
This year, this day, is our 2nd anniversary. At first, I was thinking to have just a simple dinner at 1 of the western restaurant 2 blocks away from our house since we had to bring our little girl along. But then, I changed my mind after the early morning incident which cause my wife to take leave and stay at home for the whole day long (I'm not allowed to speak about it here. :P). So, I decided we should go for something that we never try before - "Chicago Rib House" at Juru Auto City.
Well, it seems like the journey to the place is not an easy route as there is massive traffic jam and few accidents happened along the way. Anyway, we didn't give up and able to make it after 45mins of the journey.
We were both very excited once we had park our car near McDonald. The restaurant is just behind McD Juru Auto City.
The main entrance to the restaurant has very nice setting.
The restaurant have a high ceiling and nice ambience. There are not really lots of seat inside the restaurant and each seat provides luxury space. They do provide the baby seat if needed. However, we brought our own baby stroller as our baby girl still cannot seat by herself.
The restaurant also has a very nice bar, for those who enjoy drinks, this will be a really nice place to hang around. There are no noisy music, you get cozy place and nice seat, soft music to enjoy yourself. :)
Next, is the time to order foods. :) We order "Potato skins" as our appetizer, "St. Louis Ribs" and "BBQ Chicken Pizza" as main course, "Old style Lemonade" and "Pineapple Sunrise" as our drinks (both are Mocktails).
Well, while our food is not yet served, our little girl already start to ask for her "food". So, the busy mommy feeding our little girl with the formula milk. :P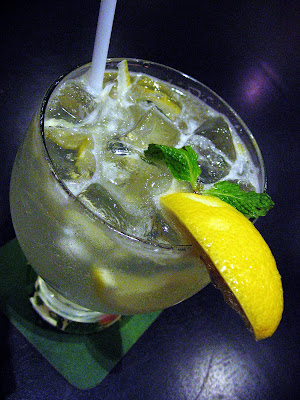 Here come our drinks..."Old style Lemonade". It is a frizzy lemonade. You can choose either rock or freeze style. We chose the "rock" style. It turns out nice, it is not very sweet, and it actually will make your appetite better.
"Pineapple Sunrise", light and nice drinks, the pineapple taste is not too strong and I can taste that the sweetness is light and just nice.
Then, here comes our appetizer. I was expecting a plate of fried potato skin and these turnout on the table. The potato skin is layered with cheese on top and some dark brown fried stuff (I don't know what it is, but it taste good. :P) and served with mayonnaise. Dip the potato skin into the mayonnaise and eat it hot will make your stomach feel good (very good)...
Next, our main course is up, the ribs!!! It really surprise us as the serving is really huge. It comes with 2 side dishes and we chose baked potato and coleslaw. The ribs taste quite nice, just that it is a bit dry and quite sticky to the bones.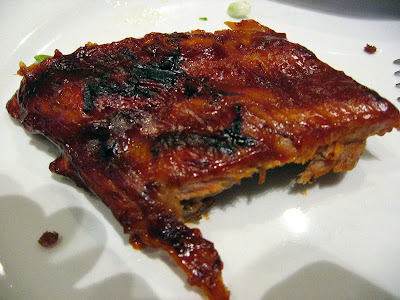 This is how it looks like after you cut it out. A closer look to the ribs. :) Oh ya, it is easier just to use finger to eat it once you had cut it out. :P
Well, the normal looking baked potato has surprise inside it, it is filled with some cheese...yummy!!!
The next main course, the "BBQ Chicken Pizza". :)
It is thin crust, it taste just nice and juicy.
Finishing of the ribs (pro...that's me)
Finishing of the ribs (noob...my lovely wife, :P)
Well, that conclude our first visit to this restaurant. Go try it, it is worth to eat. :)