1st of January (01/01) is a meaningful day to different people. For my colleague, it is the birthday of her daughter. For my coursemate, it is the birthday of his son. For my mom, is a number for Magnum 4D. For us (My wife and I), it is a memorable and a step we took into the next level of our life.
Marriage, a bind of two people who vow to live together, take care and love each other; A promise which we make for our whole life...
On this special day, at special venue, we say out loud of the vows, sign the most important agreement of our whole life (This, of course more important than SPA, HP and etc.) and wear the ring which will tie us together forever.
On this day, old memories flown back into my mind...The day we met, the sweet smile on her face, the long hair, the lots of lots....:P
I'm lucky to have her as my life partner. She is patient, supportive, and pretty. She is also my english teacher, dictionary and encyclopedia. (This, save me lots of money. :P) Now, she is also my japanese teacher and dictionary...
Lastly, I'll want to say to her that "I love you forever"...and Yes, I promise you, after Chinese New Year, we'll start our Yoga class. :P
01/01/2006, Sunny day...
Early in the morning, we start to prepare ourselves for the ROM. I had not sleep well for the past night as I was nervous. But this morning, when everybody is preparing ourselves, I feel better and better. Seems like things are just come into place well. Nothing surprise and everything are smooth.
As we are about to start the journey to the ROM venue, only we realized that we forgot to get flower! With a quick thought by my mom, we drive to town and try to get a flower. I pray hard in my heart that 1 of the florist will open early in the morning.
8.30am, Fortunately, we managed to found 1 opened. So, we grab the flower, pay the money (Which I really don't care how much it cost because it has safe my life) and drive towards our final destination..."Chui Mei Hui Tang"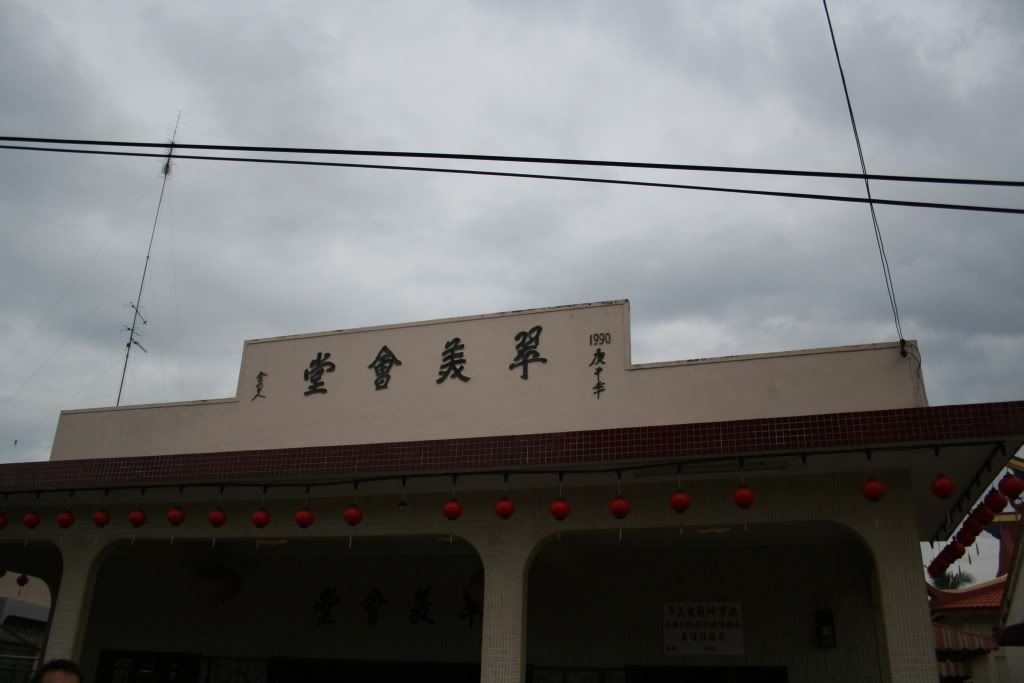 The place, is a hall beside a 100 years old Chinese Temple, which situated at a fish village. As it is just beside the sea, the sceneries are nice and romantic. After we report ourselves at the counter, we walk along the seaside while waiting for our turn.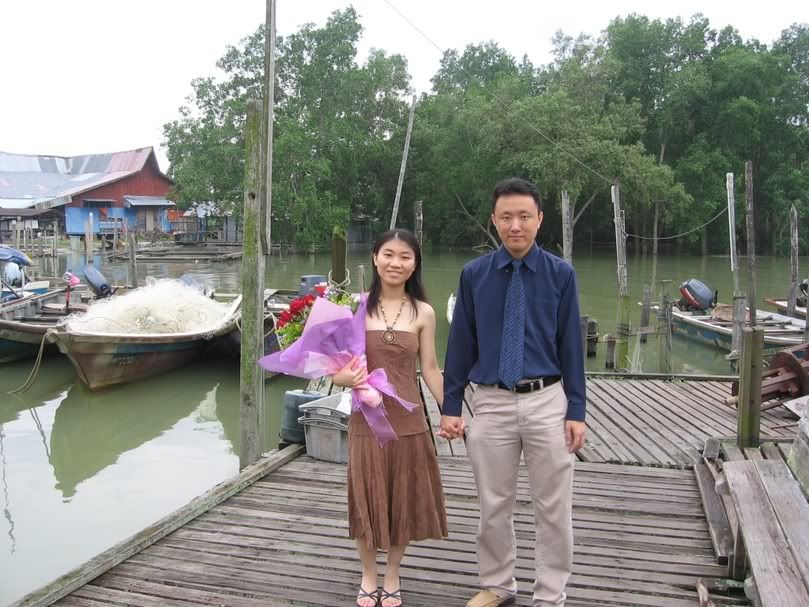 We took a photo with the help of my wife's brother (Who is also the witness for the bride). After that, we go back, sit down and wait for our turn. It is a long wait, around 3 hours and finally the moment come. We walk in, we sit down, we stand up, we vow, we sit down again and we SIGN!!! Then, we wear the rings for each other.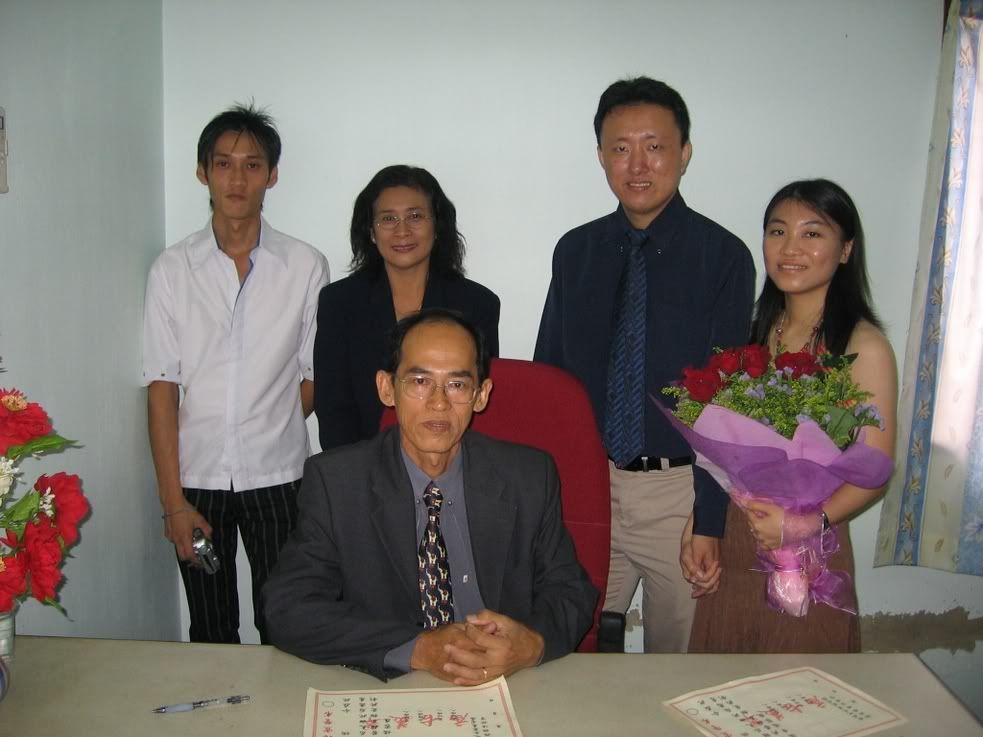 Then, we took a photo with the registrar, who is also my grandparents neighbour. :)
And that is the memorable and fantastic day...
I'M MARRIED!!!
My wife...
Myself...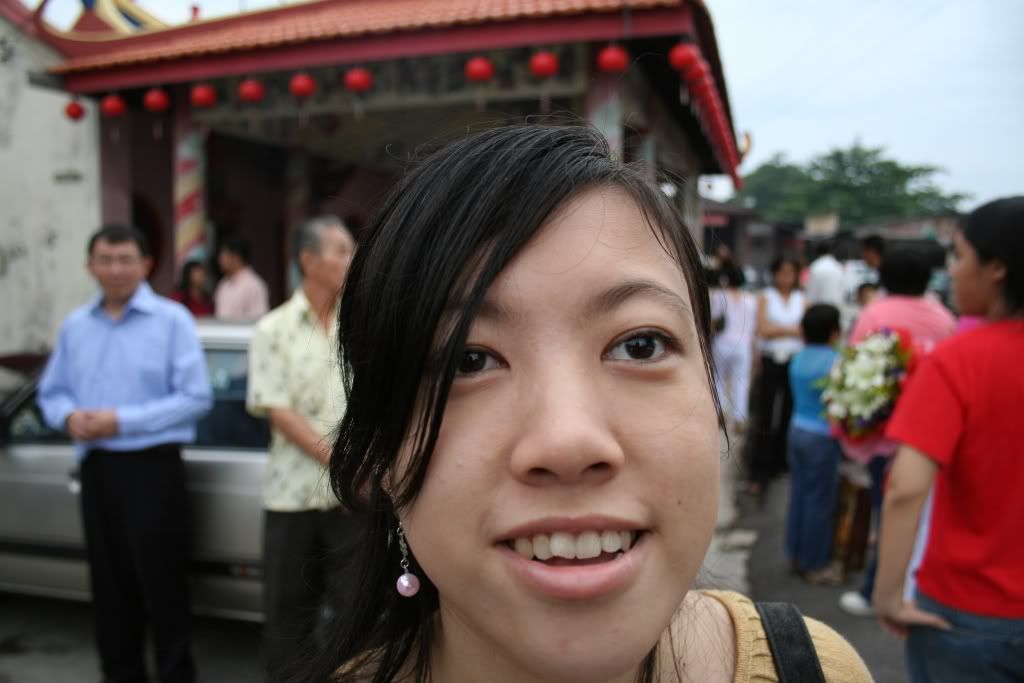 My witness...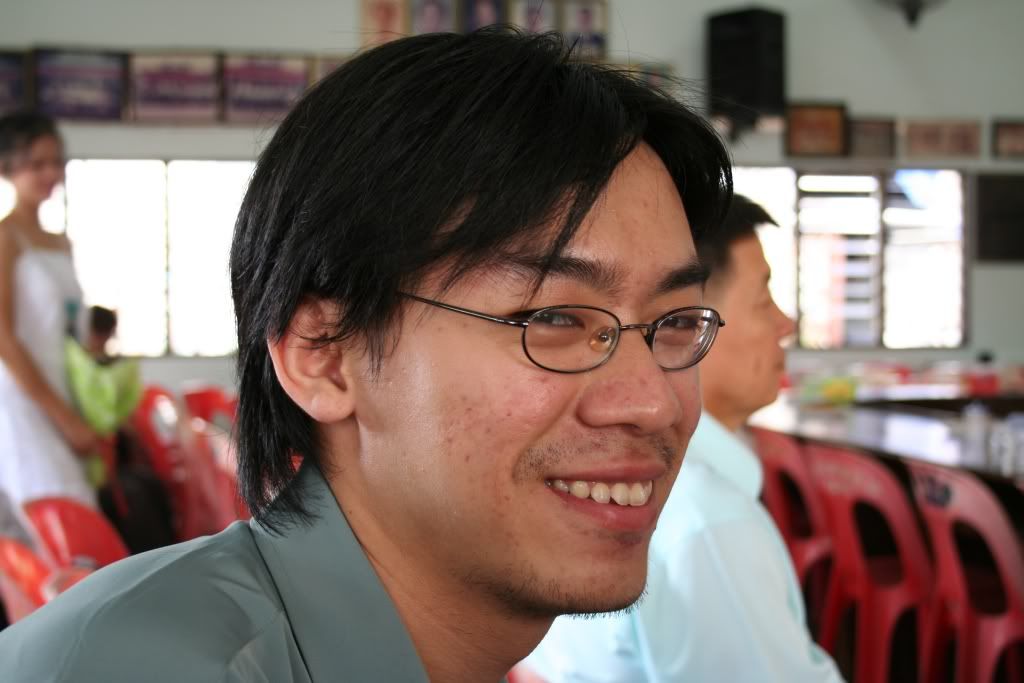 Her witness...