Location: Carnation Restaurant, Pusat Perniagaan Alma, Bukit Mertajam
We had notice this restaurant since we move to our new house in Bukit Mertajam. Just a few blocks away from our home, the outlook of the restaurant give us an impression that this restaurant have bad business. Well, since we always get the brochure of the restaurant and we had out of idea on what we should eat, we decided to give it a try.
The restaurant is located in Pusat Perniagaan Alma, Bukit Mertajam. It is along Jalan Rozhan, after passing "Nasi Kandar Fanur", at the traffic light, turn left and pay attention to the shop houses on the right. It is a small restaurant yet with nice ambience and the food is quite ok.
The restaurant serve both western and chinese food. Well, we are targeting the Western food as the chinese food really caught us in surprise when we flip through the menu.
The Western food come in set or Ala carte. We ordered 2 sets - Honey Tempura fish and Honey Chicken. :P The set come with a bun, a bowl of mushroom soup, a drink ( water melon juice, chocolate, guava or honey dew), the main course and a dessert (jelly or ice-cream). The dessert and drink choices depend on the set you order.
The restaurant is not big, around 7 - 8 tables, with nice light ambience, friendly workers and best thing, they even have membership card. :P I asked my wife to sign up for it. :P What you get from the membership card is 10% discount, special member menu, 2 free "banana boat" ice-cream voucher, free jelly cake on member birthday celebration. Well, you need to pay for the membership which is RM10.00.
The bun is served hot with butter provided. There are 2 in the photo as we ordered 2 sets.
Well, the mushroom soup is not that great, it taste like the Campbell mushroom soup. However, it is definitely better than Pizza Hut.
The chocolate drink can choose to be served hot or cold. I chose cold and it turns out to be very nice. The chocolate taste is very thick despite all the ice in the glass. It is full when it served. I forgot to take the photo first and end up taking a few mouthful of it first.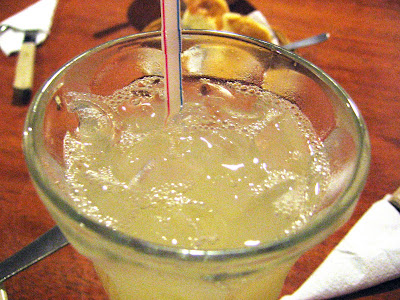 Honey dew juice, quite tasty.
The main course, Honey chicken. It is served on a hot plate together with fries, baked bean, vegetables and a sunny side egg. Below the chicken there are a few slices of cucumber as well. It is sizzling hot when it served, which makes it looks really good and tasty.
The Honey Tempura fish.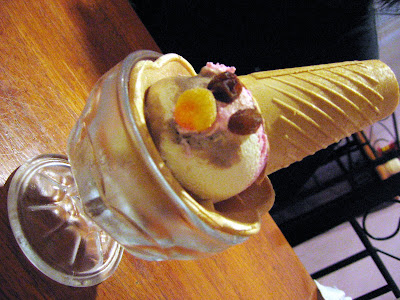 Well, it looks really cute. This is a very creative dessert where the cone is cut into half and the base is used as a hat to complete the "clown" look. :)
It taste like normal ice-cream, but I'm sure all kids will like the outlook of it.
Another dessert, fruit jelly. There are a few slices of different fruit at the bottom...
The set meal cost RM18.80 per set, we didn't order anything extra as it is enough to fill our stomach properly.
Well, if you are in the area and don't know what to eat, this might be a good choice. :P